On July 2nd, 2016 the world celebrated its first ever
​
WORLD HERITAGE SPECIES DAY

It was dedicated to Cecil the Lion .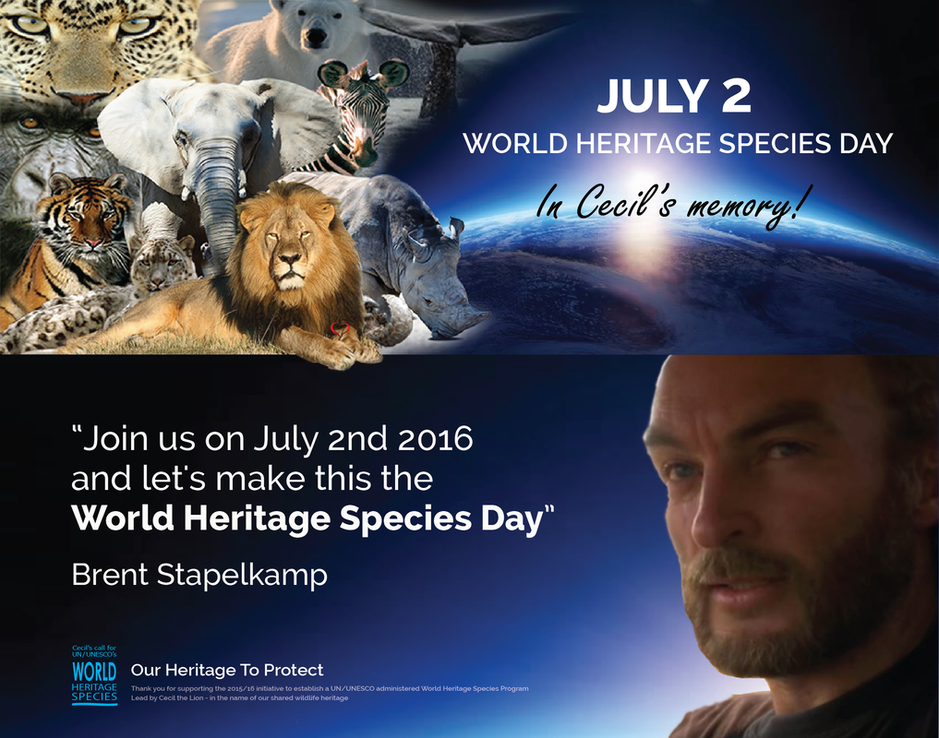 Brent Stapelkamp's call for World Heritage Species Day

On the 2nd of July 2016 we will take a minute to remember the death of an individual animal that moved the entire world. An individual that has probably done more for his species, and many others, than any other individual animal in the past. What more fitting individual could we possibly find to be the ambassador or the flagship for an exciting concept, The World Heritage Species.

Cecil's species is one that is not just familiar to us as people but arguably an important fiber in our human fabric! We have known lions since our very first dawn and have had a special relationship with them ever since. In a world of overstimulation we are so bombarded with information and images that often "the message" gets diluted and we find it hard to concentrate.

​By defining a species a World Heritage Species we clarify the message. Lions tick all the boxes as it were. Because of their Apex predator title, their flagship species definition and their umbrella species label, we can use them and the passions that they inspire, to generate interest and funding for all the species that come below them ecologically. In order to save lions we need to save prey and in order to save prey we need to save landscapes. Landscapes and cultures.

So you see, Cecil is and should be the ambassador for the first World Heritage Species Program.

​Join us on July 2nd 2016 and let's make this the World Heritage Species Day.

Many thanks
Brent Stapelkamp

​
---
On July 2, 2016 - at 18:00 Zimbabwe time, a minute's silence was observed
​to mark Cecil's death as part of World Heritage Species Day.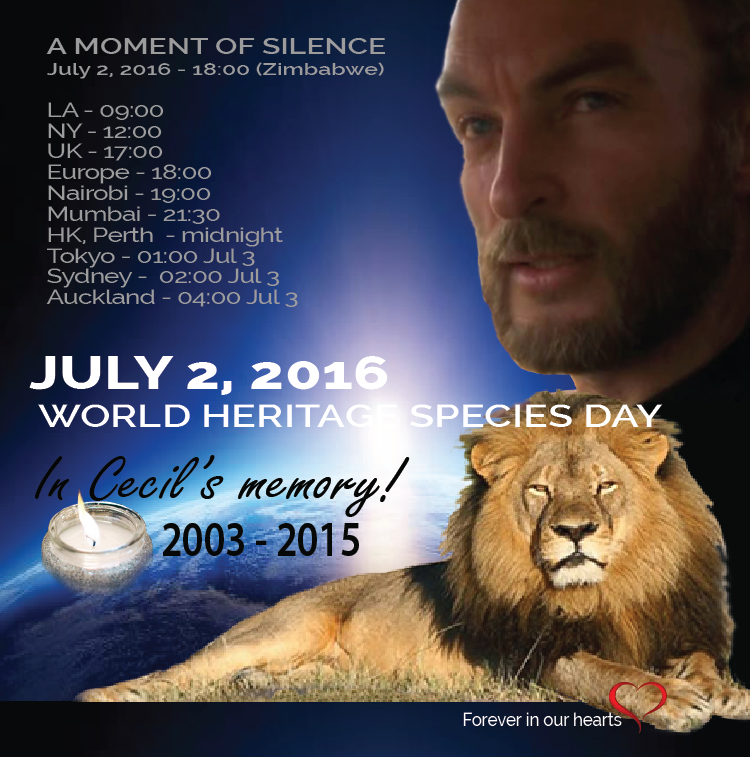 These previously unpublished photos of Cecil were released by World Heritage Species in honour of Cecil in connection with this inaugural day.


​


​

---

Letter To Cecil
Written by Sharon L. Kite in commemoration of the first anniversary of Cecil's death
​


​Dear Cecil,
​
As we approach the one-year anniversary of your death (I prefer to think of it in more cosmic terms, as your sacrifice to awaken the world), I wanted to write to you, not just because there have been some important things going on in the world, as a result of your death, but because I needed to tell you how much your life and death have meant to me.
Even though you have changed my life, over the course of this past year, in every way that matters, the truth of the matter is, everyone who has heard your name and learned your story has had their lives changed, and I don't mean lives in just one city, or country, I mean lives around the world. You are probably huffing a bit, at this last statement, thinking that I am exaggerating, that it is not possible that you, the elder statesman of lions, living out his last years in Hwange National Park in Zimbabwe, wise leader of his pride, and charmer of tourists worldwide, would have the power to change the world, but it is true, I assure you.
Before your death, on July 2, 2015, at the hands of Walter Palmer, I was leading a pretty regular kind of life. There was work, there were charities, and there was fun, all pretty standard stuff, like most people. I believed I was committed and fully present in my life, but looking back on it now, it seems like I was moving through a foggy dream. The outrage I felt over the way you were killed - baited out of the Park in an illegal hunt, wounded by an arrow, suffering horribly for many hours, and finally killed by Palmer the next day before he skinned and beheaded you, created images I will never be able to get out of my head. It was almost too much to bear, for myself, and many other people who felt the way I did. As the world's outrage grew over your death, and the way you were killed, there was an outcry for justice for your killing, but the coward that had killed you had gone into hiding for the rest of the summer, so people picketed his office, spray painted his vacation home, and appealed to your countrymen to arrest the coward and the other men who had been with him, but unfortunately, your countrymen just pretended to have an interest in bringing these men to justice, only because the world's spotlight was focused on them.
While the world was waiting for justice for your killing, the justice that would never come, some rather interesting things in the world of wildlife conservation began to happen. Your presence was everywhere, your name on everyone's lips; your death was awakening our world, which had been sleeping through the slaughter of our wildlife heritage for years.
Conservation groups that had struggled for years to fund their research, while working to preserve our dwindling wildlife, were suddenly getting the kind of financial support they had needed for years. Trophy hunting, canned hunting, poaching, and the black market trading of wildlife parts were exposed and dissected by the media, and airlines began to ban the transport of trophies of our precious wildlife animals and animal parts. Ridiculous propaganda spewed forth from all the trophy and canned hunting groups, telling everyone not to be concerned about what they were doing, because their kinds of hunting were actually "saving" our wildlife! As the details of the life of your killer became public, he was seen to be the perfect representative of trophy hunters today, living only to spend huge sums of money to hunt and kill the largest, finest, and frequently endangered animals, for no reason except to be able to say that he could do it, a destructive and egomaniacal philosophy that hopefully will be forced into extinction, before the animals he is killing are, in fact, extinct.
As the months have passed, there continues to be ripples of change everywhere. There is a new and growing awareness that without action and immediate conservation around the world, there are many, many animals that will be extinct in the very near future. The wheels of change are still moving too slowly for most people (myself included), but with awareness comes action, and with action comes hope. It is the hope that the dramatic change, needed in our wildlife conservation commitment, occurs sooner, rather than later; otherwise, we will have to live with the terrible consequences, and those consequences translate into a world without animals, a world I do not wish to live in. So, to try and prevent such a world, I left the previous foggy dream that was my life. I am immersing myself in animal interaction, conservation, activism, and writing, which I now realize are my life's great passions. As I begin moving forward on my new journey, you should know that it is you who have given me the insight, inspiration, and courage to follow my heart, gifts for which I will be eternally grateful.
In closing, I want you to know that I will always think of you as an icon. In our society, an icon is defined as "a person or thing (or, in this case, animal) that is revered or idolized." You are certainly revered, but I believe that an icon's true pinnacle of achievement is creating the kind of unique and significant change, that ripples across broad spectrums of culture, religion, politics, and nature, in such comprehensive ways, that our world is forever changed, and you have done just that; this new world awareness, which I have told you about, is all because of you, dear Cecil. I have seen many photos and watched videos of you, and in every one, you personify a King of Animals, a true animal icon of the 21st Century, or any century – courageous, intelligent, calm, wise, and filled with grace as a confident presence and leader, whether alone, with Jericho, or interacting tenderly with the small cubs and females of your pride. It is thus fitting and right that you should be made the Lion Species Ambassador for the first World Heritage Species, and we will honor you as such, on the 2nd of July, 2016, the premier World Species Day.
Rest well, beloved Cecil, you will never be forgotten, and know also, that your incredible spirit lives on, to inspire us, within all who are worthy, and all who strive to be so....
​
With Much Appreciation and Love,
Sharon L. Kite
(June 26, 2016)



Thank you for joining us in this journey to proclaim our wildlife our Heritage.
#OurHeritageToProtect

​OUR PETITION - CLICK HERE